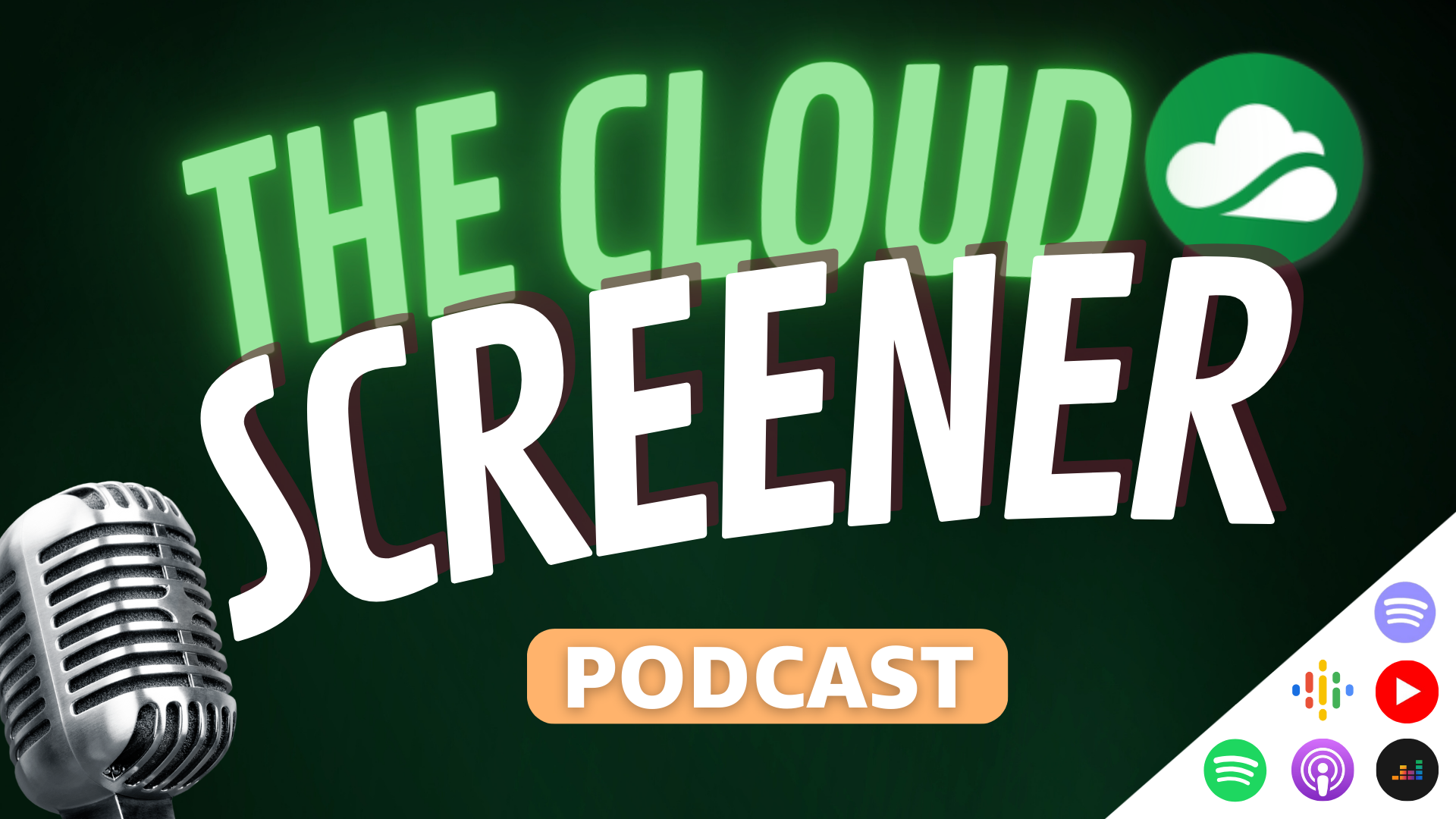 Cloud Mercato : YouTube and podcast with The Cloud Screener
In order to provide you with even more cloud content, we have recently launched a YouTube channel and a podcast: The Cloud Screener. Our ambitious goal of sharing our expertise worldwide now extends to formats that we love and consult on a daily basis. If you're curious about the why and how, read on.
A podcast about Cloud Computing, why?
There are multiple reasons why we decided to launch our podcast on cloud computing. The cloud is trending, but not only that... If you work in it, you know: the cloud is booming. There is a strong growth forecast regarding the adoption of cloud computing in the web. Sales are increasing and companies are still far from having all migrated to the cloud... very far.
The cloud is our job and our passion. It seemed natural for us to exchange with the actors (providers) that we analyze every day. You will be able to discover more easily the philosophy behind these tech companies and learn a little more about their approach.
The advantage of the podcast to discuss the cloud
In addition to its very affordable and quickly accessible side, the podcast lays the foundations for an intimate discussion that cuts directly with the cold universe of tech. Here, we don't just talk about robots, machines, data centers, but we also talk "human" on top of that. Let's say that the usefulness of The Cloud Screener is not to delve into the private life of our guests. See it (or rather, listen to it) as a natural and simple exchange on issues that may seem complex.
The importance of this type of show on cloud computing
Beyond the professional aspect of analysis and benchmarking in the cloud, we like to exchange on themes where technology is at the heart of it. Creating a podcast with the main actors of European and even American cloud computing remains the realization of a project: to make this vast world known that is not limited to data storage. Technologies closely or remotely related to the cloud will play a crucial role in the coming years (even today). We immediately think of artificial intelligence... inevitably.
In addition to all of this, we believe that this podcast helps to better understand the importance of the cloud and how it can improve your business.
What to expect in The Cloud Screener?
The main theme we address in our show, you know, but we can extend to other cloud-related topics. The guests of our special cloud podcast are CEOs, CTOs, product managers, SREs, or even engineers of all kinds... All profiles that work closely with data to serve you with unique content. A more technical profile or a more commercial person: it doesn't matter. We love to exchange on all aspects of the cloud, whether it's the technologies used, performance, service pricing, philosophy of providers, or the future of the company.
Where can you find us and how to subscribe?
Within the Cloud Mercato team, we have agreed to publish The Cloud Screener first on the podcast streaming platforms with the largest audience: Anchor (Spotify Podcaster) and Spotify. That said, we will be publishing the podcast on all major platforms very soon: Apple Podcasts, Google Podcasts, and Deezer.
To not miss anything from our show, we recommend that you subscribe directly to our channel in the app of your choice. We will not fail to announce this on our LinkedIn page.
Bonus: a YouTube channel too!
Yes! Cloud Mercato is also launching on YouTube to share content that resonates with our industry. This could be a recorded webinar, a podcast recorded on video, or even a conference that we hosted.
As they say in French, "a picture is worth a thousand words," and this is sometimes true. You know how difficult it can be to explain a graph. That's why we believe that the video format is sometimes very useful for showcasing our studies and supporting our cloud analyses.
Just like with the podcast, we highly recommend that you subscribe to our YouTube channel so you don't miss anything.
We won't hesitate to communicate about this over time.
Enjoy!